2017.06.16
Being one of the few big cities in Japan that was not affected by air raids during World War Two, and therefore remains with most of its Edo-period structure, Kanazawa is like an open-air museum that portraits a Japan from old times. It goes without saying that the city has also a modern side, as one would expect from any big or mid-size city in Japan; but Kanazawa is overall fulfilled with a sort of nostalgic atmosphere that one cannot usually see. The narrow and twisty streets, the old-style houses and the traditional districts make something as simple as walking around the city a delightful and unique activity.
Therefore, my general recommendation of what to do in Kanazawa would be to walk around the city, so you can appreciate its beauty while looking for specific things that interests you. I will suggest three different spots down below that I am sure are not going to disappoint.
Nagamachi Samurai District is a mandatory spot. The place offers a special tour to the past, with its remaining Samurai residences, earthen walls, traditional gardens and channels. It is even more beautiful and mysterious during night time, although during day time it is possible to visit some interesting shops they have around there.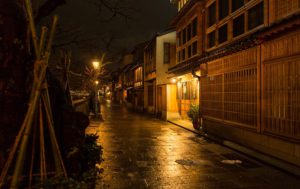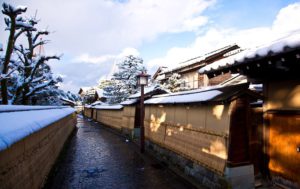 Higachi Chaya District is another great place to visit. Known also as the Geisha District or the Tea District, its historical houses and shops pleases your eyes, while the food and sake shops can easily please your palate. As a center of Kanazawa culture, you can find many local items, such as snacks, sakes, plum wines, confectionaries, potteries, gold-leaf ice creams (yes, it is real edible gold!) and more. Also, on an irregular schedule, you can appreciate performances by geishas at night.
Kenrokuen is notorious for being one of the "three most beautiful landscape gardens" in Japan. It is a vast garden that changes its beauty every season, never letting you down when it comes to impress you. Aside the garden itself, the surroundings of Kenrokuen can also be fascinating, featuring traditional shops, temples and the Kanazawa Castle.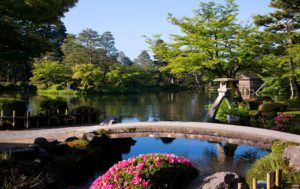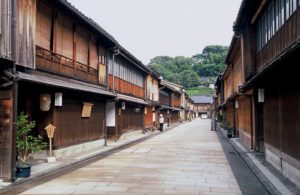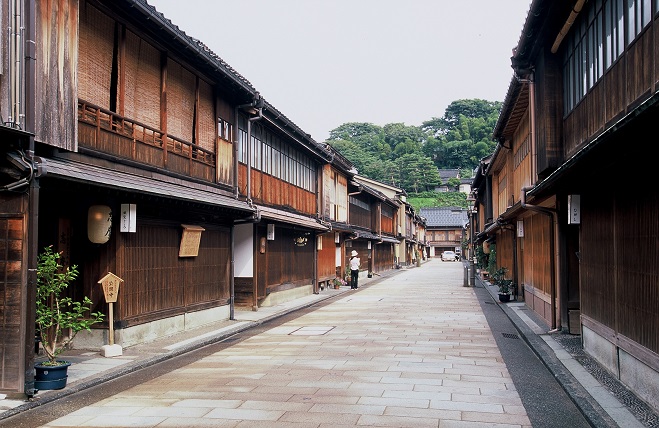 Those above-mentioned spots would be the most attractive and interesting places to see, mainly if you are coming to Kanazawa for the first time.